The
official site
has been updated.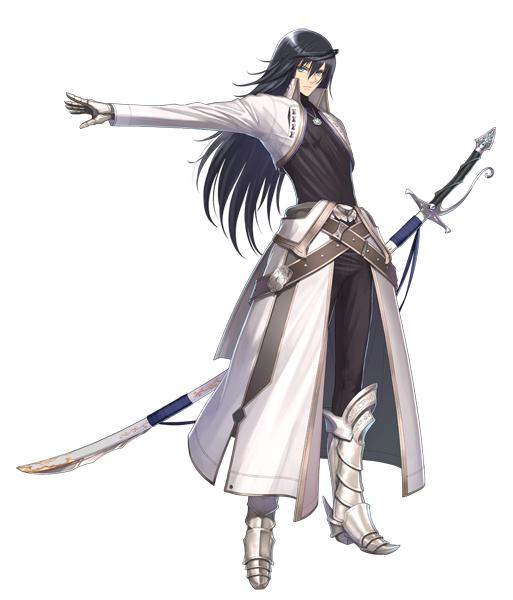 Jenius
Jenius is officially pronounced "Jiinasu" in Japanese.
Our speculation was right, he's voiced by Hiroshi Kamiya (Araragi from Monogatari series)
Kamiya voices Rick in Shining Hearts and Fried in Shining Ark. Both are protagonist.
He's powerful dragon slayer who works alone.
His class is Sword Master
Susanoo is the name of his Japanese sword.
The description says "Is he ally or enemy? (But we saw him attack Yuma in the opening scene, and the voice actor will appear on the enemy side in Shining Fan Festa.)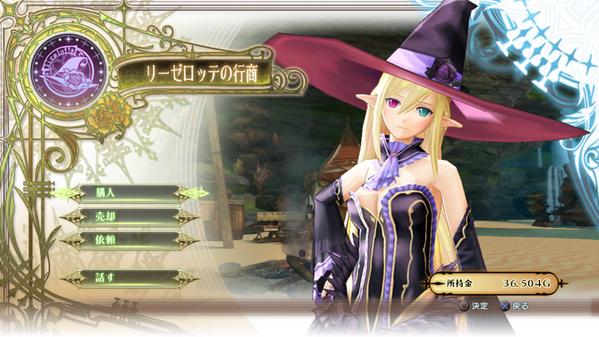 Marga
Marga is the capital city of Astria Kingdom.
The country is on Alfheim Island which is a sacred ground with history.
Liselotte (picture above) sells items, materials, and Skill Pieces. She'll also be at each camp.
Rapple's alchemy workshop offers you synthesis service. He can make both items and Skill Pieces from your materials.
Ryle's tuning workshop offers you Tuning service for Yuma's sword and Armonix. This's the only place you can do the Tuning. However, you can add Skill Pieces whenever you want.
At The Seagull Cottage (inn), you can rest to restore HP/MP or access the library.
At library, you can view event CGs or tutorials. You can also view unlockable 3D character models (including zoom and rotate). It seems you need the monster "figure" for its model. This figures are drop item.
It looks like the Lucky Egg in the city works like Gachapon (capsule toy vending machine) which also gives figures.
You can accept quests from NPCs with quest icon.
New characters and voice actors
Hikaru Midorikawa (Sanada from Persona 3) voices Shin Kouryu (the true form of Shining Dragon).
Midorikawa voices a character in Shining Wind/Hearts/Blade.
Hideyuki Tanaka (Otakon from Metal Gear series) voices Albert, the king of Astria Kingdom (Sonia's father). (Albert is pronounced French way)
Unshou Ishizuka (Joseph from JoJo Stardust Crusaders) voices Burroughs, the leader of the knights of Astria Kingdom and also Sonia's sword instructor.
Twitter page updared
New Twitter icons and headers have been added.
Shining Resonance will be released on December 11.
Sonia
is expected to be playable in Beast Note's most anticipated fighting game Blade Arcus.