The
official site of Shining Resonance
is updated with these information.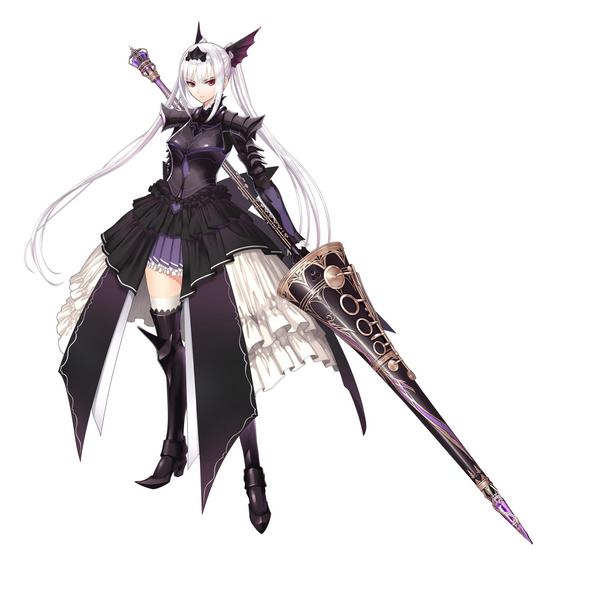 Excela
Her title is "Dragon Knight Princess of Divine Song."
Her class is Dragon Master.
She excels at supergravity magic.
She appears to have Armonix lance that also works as a flute.
Her enemy is Diva Magica and 7 Armonix users.
She has 3 dragon minions.
Her goal is to capture all dragons.
One of her sample voices reveals that she has a soft spot and that she's all alone and can only trust dragons.
Kizuna Diagram
Each character obtains a new unique personality from a scenario.
A bad relationship is developed if both characters' personalities don't match. Vice versa, a good relationship is developed when setting matching personalities.
These relationships are called Kizuna(s).
In an example, Yuma and Agnum are showed to have "Negative Power" Kizuna.
In another example, they're showed to have "Let's Go, Brothers!" Kuzuna.
Kizuna(s) affect party member's actions in combat.
Resonance
Resonance randomly occurs in combat.
It allows two character to perform a unique action (attack or support) together, depending on their Kizuna or personalities.
Yuma and Agnum are showed to perform an action called Rival Break when their Kizuna is Eternal Rival.
Field Chat
In the field, a party member will say something, including giving an advice.
Sometimes it's a question, which you must answer using L1 (YES) or R1 (NO).
Camping
You can camp at certain places. The places will also act as a save point.
Camping will restore all HP and MP.
It seems like camping will cut to night time instance where you can talk to a character or Stare (command) at them.
Night Event and Dating
Using Stare command, there's a chance that Night Event will occur. This's a chance to develop a relationship. This also applies to two male characters.
Night Event can lead to M.O.E.S (Mind Over Emotion System). It's basically question with time limit to answer. Good answers will improve relationship. You can also choose "Do not answer."
At the end of a Night Event, there's a chance that you'll be asked for a date. This will also improve the relationship.
It appears that personality can trigger a unique event in a date.
Twitter icons and headers
PS3 RPG Shining Resonance will be released on December 11.
Sonia
is expected to be playable in Beast Note's most anticipated fighting game Blade Arcus.